You might encounter some problems with the camera if your external camera is not connected properly to your laptop or desktop.
Try closing all applications that could be using the camera like Skype and instant messengers like GTalk, Facebook Messenger, Windows Live Messenger, etc.

This issue also occurs if the internet is blocked by a restrictive firewall. This usually happens when you are trying to take the assessment on a corporate network/ LAN, using your office laptop or using your school/college's network.

If the problem persists, we recommend you try a different internet connection/access.
I am unable to connect to the video server.
My face is not getting detected.
I Am Unable to Connect to the Video Server
You might face the error as shown in the screenshot below.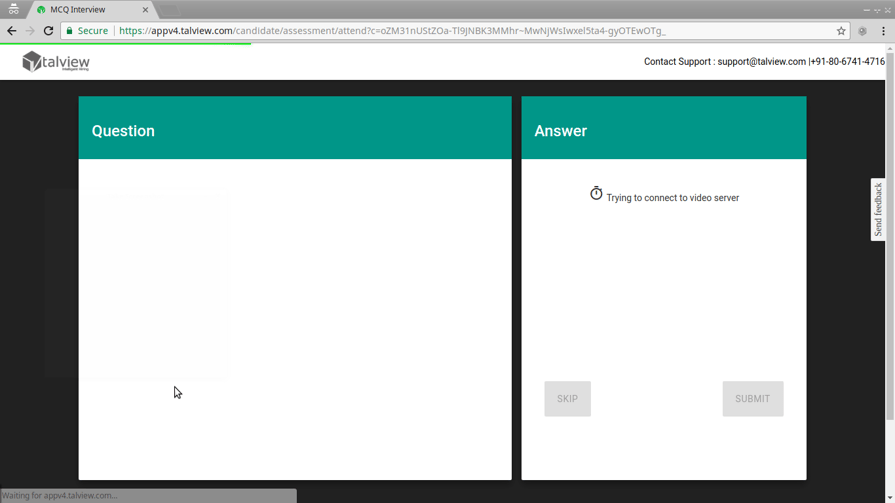 Please check your internet connection and confirm with your IT team about the firewall settings to ensure that no firewall is blocking the Talview site.
Please follow the below steps to check if the network is blocked.
1. Run the link, https://network-test.talview.com/
2. Click "Allow" button
3. Press the "start test" button (only once).1. Please ensure that you are sitting in a well-lit area
2. Reload the page and try again.
4.The download speed will be displayed, and you can see activities in the server test results on the right side
5. Wait few more seconds for the status of the 'Server Test Results' to change to SUCCESS or FAILURE for all the ports listed under 'Server Test Results'.
6. Please take the screenshot and send it to support@talview.com. We will have a look at it and suggest next steps or advice alternative options for you.

My Face is Not Being Detected
1. Please ensure that you are sitting in a well-lit area
2. Reload the page and try again.